COMMERCIAL - INDUSTRIAL ROOFING SERVICES SINCE 1986
Welcome to ACS Roof Maintenance

We at ACS Roofing specialize in roofing commercial and industrial buildings. We are one of the largest commercial roofing contractors in the state. We were established in 1986, offering everything from roofs on new construction, roof replacement, comprehension roof inspections, maintenance, and repair programs. We are licensed by the state of Arkansas, fully insured with Workers Compensation and General Liability. We travel all over Arkansas and the surrounding states. We are set up for real estate companies, property owners, property management teams, and insurance companies, to provide them with quality workmanship on their commercial roofs.
We are approved applicators for a number of different roofing manufacturers (U.S. Intec, GAF, Johns Manville, Certain Teed, Bi-Tech) and are qualified to install any type of roof system that you might need. We install Modified, Single Ply, EPDM, and Built-Up (BUR) roof systems.

We also have a leak service that we offer in case you have a small problem with a leak but not necessarily need an entire roof. We offer emergency roof repair within twenty-four (24) hours of being notified.
SINGLE -PLY
Best Used For: Any application (including high heat and solar applications) where you want the very best performance you can get for a 25 year period.

TPOPVC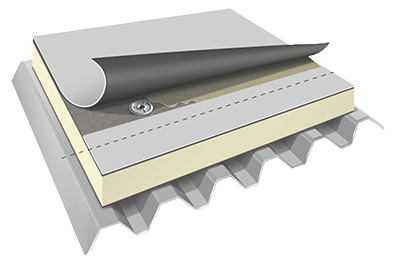 Contract Maintenance
We offer a Contract Maintenance: Building owners know that building maintenance is important, but somehow roof maintenance takes an extremely low priority. This may be due to an "out of sight, out of mind" philosophy, but it probably also relates to the fact that service to the roofing system is not directly related to any of the normal productivity indicators by which management is judged.
There is an answer to this roof top neglect. Top management can opt for contracted roof maintenance, a practice that relieves management of the worries of routine roof maintenance. Our contract maintenance programs are designed to provide what your roof needs for a pre-established annual fee. ACS will conduct a survey of your roofs and recommend an appropriate scope of work to maintain your roof for an agreed price.

Many roof systems are replaced prematurely, solely due to the lack of inexpensive routine maintenance and or substandard repair techniques when roof leaks occur. Roof replacement cost for commercial range from $2.00 to $8.00 a square foot, or more. Programmed roof maintenance on an annual basis ranges from .10 cents to .25 cents a square foot per year.
View our Local Projects



View our digital portfolio
OUR SERVICES
Offering commercial roofing services for any type of project.
Choose from eco-friendly roofing systems and metal
roofing systems for your property
Section 179 Tax Deduction for Commercial Buildings
As of Jan. 6, 2021, the Tax Cuts and Jobs Act has expanded the definition of qualified property that is eligible for expensing under Section 179 Tax Deduction; this includes improvements to commercial roofing.
Why Perform Maintenance on My Roof?
A properly executed maintenance program will give the owner a predictable budget, year after year, in which he or she is assured that their roofs are receiving prompt and continuous attention.
When the rain comes, the only things protecting your people, furnishings, and equipment are the four walls and your roof. I hope you never have to replace your walls but your roof eventually will have to be replaced. Your ACS Roof Maintenance representative is trained to keep a watchful eye on your roofs. He is also trained to provide recommendations to give you the highest Return on Investment for every dollar you invest in your roof asset. For newer roofs, we will apply "long term repair". To save your hard-earned dollars on "short term" repairs.
We also have an in-house sheet metal shop and install all types of standing seam roofs and metal wall panels. We fabricate all of our own flashings, gutters, and downspouts and custom build them to the building's needs.
We have a good relationship with our customers and would like to keep making relationships with new customers. We do our best to try to save our customers money and look out for their best interest.
I would love to be able to get a chance to work with you and your company, and if given the chance prove our quality workmanship is second to none. I know the headaches you can get when one of your properties has a problem and when the roof is leaking; you should have a company that will take that problem and headache and deal with it for you.
If you have any problems or projects that you would like for us to look at or talk to us about, feel free to contact us at any time.